Organizations are only beginning to grapple with the issues of creating an effective hybrid workplace. We talked with Kate Lister, president of Global Workplace Analytics (GWA), a research and consulting firm that helps employers understand and prepare for the future of work. Kate shared her insights into what's working and what's not in the new hybrid landscape.
Last year, the global pandemic forever changed how people think about the workplace. COVID-19 forced organizations to adopt a remote work model almost overnight. For most, the sudden shift caught them unprepared. Some 50% of employees hadn't previously worked offsite on any regular basis. And only 7% worked offsite half-time or more.
Now, with more than a year of working from home, most employees have hit their stride. Over half of US workers say they won't return to a job unless remote work is allowed and only 10–15% of office workers want to return full time. Another 15–25% are perfectly happy continuing to work remote. The remaining 50–60% want a mix that would include half of the time in each place.
But how that plays out, particularly in the short run, is fraught with challenges around redefining the purpose of "the office" in a world that's managed remarkably well from home for more than a year. These challenges are two-fold: organizations need to build and adopt a "blend" of hybrid work that's effective both for business outcomes and employee engagement.
Hybrid Workplace
As a response, organizations are bringing staff back to the office using a blended approach: part work-from-home, part in-office. According to research by Steelcase,⁠ 72% of global organizations are planning some degree of hybrid work; another recent survey found 82% of US-based companies now offer permanent work-from-home options.
Challenges
The hybrid approach allows companies to reap the benefits of onsite and remote work; but it introduces a new set of problems.
No time to pilot. During the pandemic year, many organizations gutted offices and replaced workstations with unassigned seating. Companies are implementing complex work practices across entire organizations with no time to test, experiment or refine. An effective hybrid workplace strategy will require iteration, but few businesses have time to iterate.
Logistical challenges. Organizations need to relearn some basic functions: how to schedule meetings, locate team members and allocate workstations and work tools. Getting the right team members in the right places at the right time can be a nightmare. Flexible schedules can be stressful for employees who need to coordinate with school schedules and day care.
Office re-entry shock. Employees returning to nearly-empty offices find them sad. The coffee bar, conference rooms and company cafeteria are closed. Masks are still required. Everything associated with spending social time with teams is missing, making it hard to connect with your peers and workplace.
No place to call home. Most employees are willing to work in an unassigned desk environment, but they'd like to have a "home territory," a team space and a place to store their stuff. Getting this right was a challenge pre-pandemic; hybrid work and public health factors have made it even harder.
Fear. Staff are worried about health and wellness. Has the HVAC system been cleaned? Is the air quality being monitored? What are the standards for social distancing in elevators? How safe are shared workstations? How often are surfaces cleaned? Effective hybrid workplaces need to go beyond spatial layout and actually communicate clearly and frequently with employees.
Adapt—or else. When asked "What would you do if your company didn't offer hybrid work?" Nearly half said they'd look for another job. This figure climbs for younger workers: almost 60% of Gen Z and Millennial employees said they'd likely look for other work if their employer didn't offer a hybrid choice. The data is clear. Companies need to offer workplace options that meet employee's needs—or risk losing talent to employers that offer more flexibility.
Measuring the Workplace Experience
When designing and building an effective hybrid workplace, designers and strategists should identify the goals for the space. Understand how people will use it for work: What types of work need support? What is the footprint for those spaces? How often are various types of workspaces needed?
Preparing for Effective Hybrid Work
Research shows the most successful hybrid workplace implementations are those that intentionally rethink their practices and processes and align them with their strategic goals. Here's how that looks in practice:
Survey your workforce. Ask about work preferences and the tools and technologies needed for success. Work with team leaders to determine who needs to be in the office and when.
Proactively manage change. Many companies are implementing unassigned seating for the first time. People returning to the office will be expected to share workspaces. This policy raises anxiety and creates resistance; to smooth the transition, use change management techniques to help staff understand the reason for the shift. Be sure they see 'what's in it for them.'
Create inspiring spaces. Rather than a requirement, workspaces should be somewhere an employee wants to be. Design a hub that connects, fosters creativity and inspires great work.
Redesign meetings. To make hybrid meetings most effective, require a "remote-first" strategy, where everyone joins the meeting from their own laptop, regardless of location. This guarantees a better experience for all participants and avoids the "clubbiness" of onsite attendees.
Reconfigure space. Hybrid working requires physical changes to office space. Open plan designs may no longer work. Consider carving out more small, enclosed spaces for videoconferencing and one-on-ones. Don't cut your floorspace until you've lived with this for a while.
Give teams a home. Employees returning to the office say they don't want to sit just anywhere in the building. They want to be with their own people. A simple solution is to assign team areas, which can be shared with another team when schedules are shifted.
Use employee-facing technology. Make it easy for employees to plan when and where they work. The key factors influencing a worker's decision about when to come into the office are:

The kind of work they need to do that day (39%)
Who else is going to be there (37%)

Equip your workplace with reservation systems and people locators so that they can make informed decisions about making a trip to the office.

Provide choice. Let your employees choose the space or spaces that are most effective for them. Many organizations now offer options for activity-based working with a landscape of workplaces including places for:

Concentration
Collaboration
One-on-ones
Escape/downtime

Another way to encourage choice is to ask for volunteers to serve as the first wave returning to the workplace. Because they've opted into the return, this first wave is likely to engage more with new workplace systems and help find gaps/opportunities in your evolving office.

Experiment. Stay flexible. While some companies are dictating the number of days a person should spend in the office, a better way might be to identify work profiles or workflows and match them to the individual.
Plan for equity. With a long-term hybrid environment comes the risk of 'haves and have-nots', or a gap in culture and connection between those working remotely or onsite. In the past, onsite staff got preferential treatment in terms of career advancement, salary and access to the best projects while remote employees were second in line. Create intentional processes and policies that treat each work group fairly. For example, if your organization provides free food and coffee at the office, arrange for a lunch voucher system for people working out of the office.
Measure/monitor/iterate. Install sensors to measure the effectiveness of spaces in real time. Employ pulse surveys to identify problems with booking rooms or sharing spaces. Collect data to learn the percentage of time people are spending doing solo work, collaborative work and socializing. Constantly monitor the environment and make small changes as needed.
Don't Burn Up On Reentry
The ideal workplace is borderless. It includes office spaces and home spaces and third spaces. Its goal is to help employees get their jobs done wherever they are—working from home, the office or a hybrid of the two.
Creating effective workplaces that enhance the employee experience requires care and attention. In the rush to return to "normal" and get workers back to the office, organizations may force people to return to the way it was.
Instead, be a part of building the way it could be.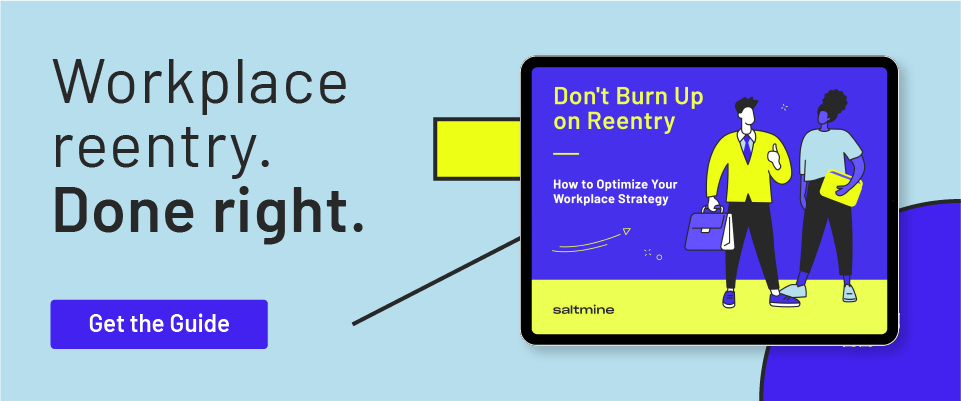 About Kate Lister

Kate Lister is president of Global Workplace Analytics, a research-based consulting firm that has been helping communities and organizations optimize the employer, employee, and environmental outcomes of flexible and distributed work for more than fifteen years. Her perspectives on how Covid-19 will change the way people work have appeared in the New York Times, Washington Post, Wall Street Journal, Newsweek, and dozens of other respected news outlets. Kate was one of only three witnesses invited to testify before a U.S. Senate committee on the expansion of telework in government post-Covid-19.